Facebook Portal is a new device that allows you to make video calls and stay connected with your friends and family. The device comes with a built-in camera and speaker, and you can use it to make calls to anyone on Facebook. You can also use Portal to connect with Ring Doorbell, which is a home security system that allows you to see who is at your door from anywhere in the world.
It's been rumored for a while that Facebook is working on a smart speaker with a video display. The device, which is said to be called Portal, is now reportedly close to launching, and it may work with Ring's doorbell camera. According to Cheddar, Portal will be announced at Facebook's annual developer conference in May.

The device will supposedly be priced around $499 and come with a 15-inch 1080p display. It'll have built-in speakers and cameras, and support voice commands via Amazon's Alexa assistant. One of the key features of Portal will apparently be its ability to make video calls.

Facebook is said to be working on artificial intelligence software that can automatically pan and zoom the camera during calls, so you don't have to worry about framing yourself properly. And it looks like that AI could also be used to integrate with Ring's doorbell camera. The report says that Facebook is in talks with Ring about integrating its doorbell camera with Portal.

This would allow you to answer the door without having to get up from your seat. It's not clear if this feature would be available at launch or if it would come later through an update. If true, this would make Portal one of the most compelling smart speakers on the market.

Although there are already several devices out there that offer similar features, none of them have the same combination of hardware and software as Portal appears to have. And with Ring'sdoorbell camera integration, it would become even more useful for people who want a hands-free way to answer their front door.
Does Portal Automatically Alert You If Someone is at the Door When You Have Ring Doorbell Setup?
If you have a Ring doorbell set up at your home, you may be wondering if the device will automatically alert you if someone is at the door. The answer is yes! Portal will send you an alert as soon as someone steps onto your property, so you can be sure to never miss a visitor again.

Here's how it works: Portal uses motion sensing technology to detect when someone is approaching your door. Once someone is detected, an alert will be sent to your smartphone or tablet via the Ring app. You'll then have the option to view a live video feed of the person at your door or choose to ignore the alert altogether.

So, if you're looking for a way to keep tabs on who's coming and going from your home, consider setting up a Ring doorbell. With Portal alerts, you'll always know when someone is at your doorstep – even if you're not there to answer the door yourself!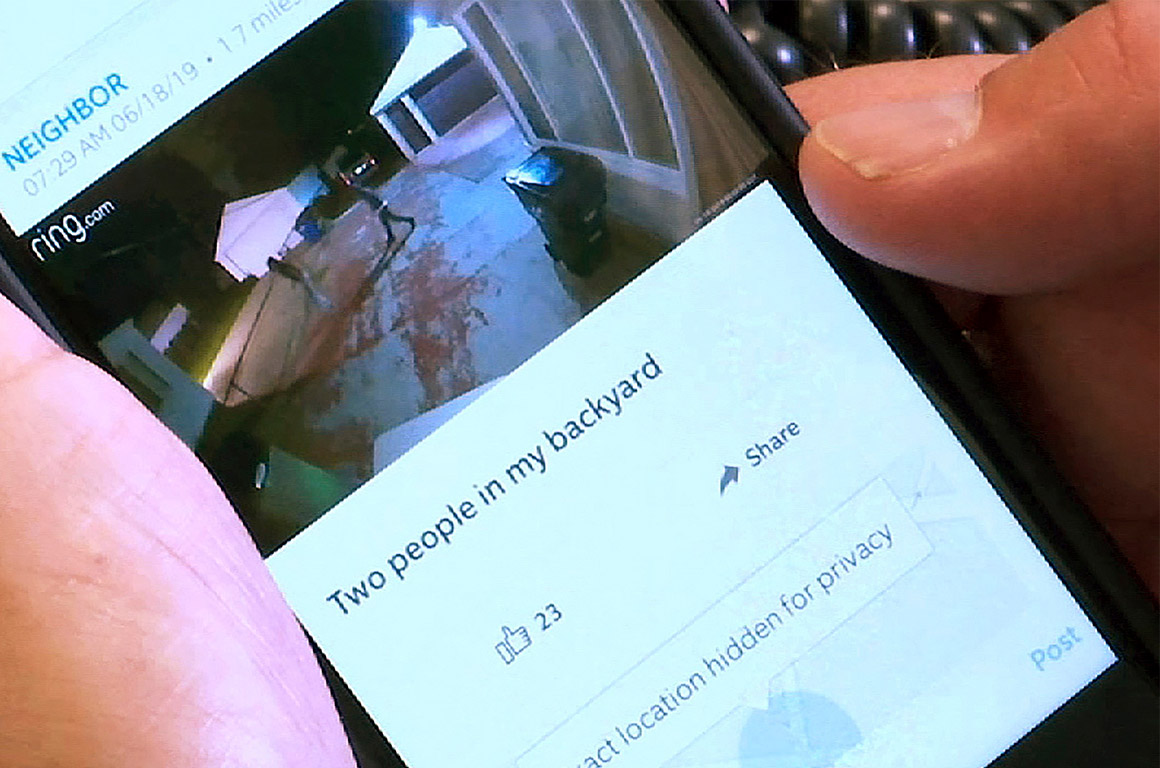 Credit: www.aclu.org
Can I Connect My Facebook Portal to My Ring Doorbell?
Yes, you can connect your Facebook Portal to your ring doorbell. To do so, you'll need to first install the Facebook Portal app on your smartphone. Once the app is installed, open it and sign in with your Facebook account.

Then, tap the "Settings" icon in the top-right corner of the screen and select "Portals." Next, tap the "Add Device" button and follow the instructions onscreen to add your ring doorbell. After your ring doorbell is added, you'll be able to view a live stream of its camera feed from within the Facebook Portal app.
Can I Use Facebook Portal As a Security Camera?
If you're looking for a way to keep an eye on your home while you're away, you might be wondering if Facebook Portal can be used as a security camera. The answer is yes! You can use Facebook Portal as a security camera, and it's actually a pretty great option.

Here's everything you need to know about using Facebook Portal as a security camera. First of all, it's important to note that Facebook Portal is not a traditional security camera. It's not going to record video or audio 24/7 as a dedicated security camera would.

However, it does have some features that make it ideal for use as a security camera. For starters, Facebook Portal has built-in motion detection. This means that it will start recording video and audio automatically when it detects movement in front of the device.

You can also set up alerts so that you'll get notified when the motion detector is triggered. Another great feature of Facebook Portal is its two-way audio. This allows you to hear what's going on around the device, and also talk to whoever is in front of it.

This can be really helpful if you want to scare off intruders or just check in on your kids while they're home alone. Finally, one of the best things about using Facebook Portal as a security camera is that it integrates with other devices in your home through the Smart Camera app. This means that you can view live footage from your Portal on your TV, or even on your phone if you have the app installed.

You can also use voice commands to control the device, which makes things even easier. Overall, Facebook Portal is an excellent choice for anyone looking for an easy-to-use security camera solution.
What Platform Does Ring Work With?
The ring is a home security company that offers a variety of smart home security products. Their flagship product is the Ring Video Doorbell, which allows users to see and speak with visitors at their door using their smartphone or tablet. In addition to the Video Doorbell, Ring also offers the Ring Alarm system, as well as several other security cameras and devices.

Ring products are compatible with many different home automation platforms, including Amazon Alexa, Google Assistant, Apple HomeKit, and more. This allows users to control their Ring devices using voice commands or mobile apps. Additionally, some third-party security systems are compatible with Ring devices, giving users even more options for controlling their home security.
Does Nest Doorbell Work With Portal?
If you're wondering whether the Nest doorbell will work with Portal, the answer is yes! The two devices are compatible with each other, so you'll be able to use your Portal to see and speak to whoever is at your door. Here's a step-by-step guide on how to set up the Nest doorbell with Portal:

1. Start by downloading the Facebook Portal app onto your smartphone.
2. Once the app is installed, open it up and sign into your Facebook account.
3. Next, go to the settings menu and select "Pair device."

4. Now, hold your phone up to the QR code on your Nest doorbell until it scans it. This will connect the two devices together wirelessly.
5. The final step is to give your Portal permission to access your Nest camera feed.

To do this, simply click on "Allow" when prompted by the app. And that's it! You're all set up and ready to start using your Portal as a video intercom for your Nest doorbell camera.
Conclusion
Facebook is testing out a new product called Portal, which is a hands-free camera that can be used to make video calls and is also integrated with other smart home devices. One of the devices that it will work with is the Ring Doorbell, which is a popular device for people who want to keep an eye on their homes. The Portal will be able to answer your door when someone rings the doorbell and you can talk to them through the Portal.

This is just a test for now, but it looks like Facebook is planning on making this a full-fledged product.